Efficient all-in-one compact moulding solution?

✓ SMART is it.
SMART is a compact moulding production cell providing a clean, safe production environment.
The moulds are heated directly by electrical heating elements incorporated into the surface of the mould. This ensures the most efficient use of energy and materials.
Cooling is achieved by fans mounted on the rotating frame to optimize their efficiency. This arrangement ensures high productivity with shorter cycle times than conventional systems when using the same material and heat exchange area.
Dramatically cut downtime?

✓ SMART can do it.
To reduce downtime as much as possible and increase productivity, a SMART option allows for interchangeable tooling frames.
This feature allows mould opening, part removal, insert positioning and powder loading to be achieved away from the machine, thus maximizing active moulding time.
The docking of the spider on the machine is quick and automatic thanks to a coupling plate connecting all electrical, pneumatic and auxiliary services. The spider is also automatically mechanically locked in place. SMART has an optional intelligent spider recognition system that identifies the spider and loads the correct moulding program.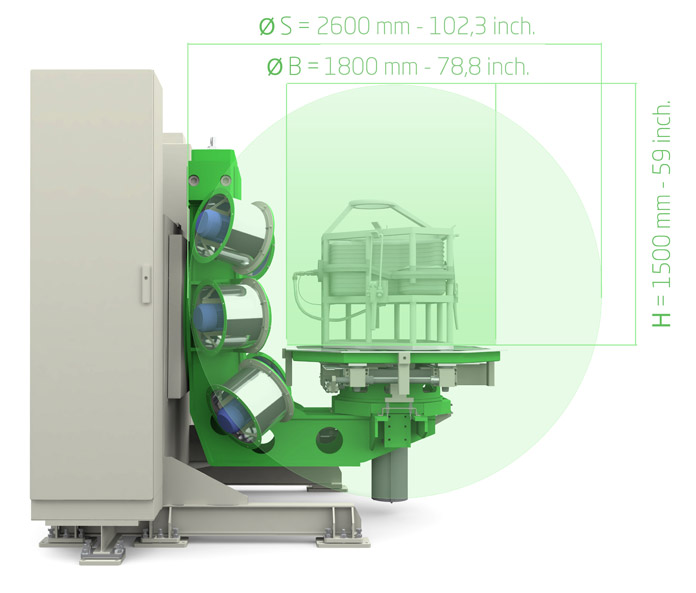 Wide range of products?

✓ SMART moulds it.
SMART machine moulds a wide range of products, including Hydrogen Tanks, Truck and Tractor components, Tanks, Furnitures, Furnishing items, Lamps, Floor cleaning, Ducts, Trunk panels, Pillar.
Flexible automation?

✓ SMART offers it.
SMART can be configured to operate in a semi-automated mode with manual intervention for part removal and reloading. This may be suitable for certain products and production environments. The SMART machine can also be integrated with robots and other automated equipment to operate in a fully automated mode with no human intervention. Your choice will be influenced by product design, additional moulded-in parts or graphics, or your particular production environment. SMART can operate as an independent machine or as an integrated part of a production cell.
Wide range of materials?

✓ SMART moulds it.
The comprehensive control of the SMART machine allows numerous engineering polymers to be processed, including polyethylene, polypropylene, polystyrene, polycarbonate, all types of nylon, PLA, ABS, PVDF, polyester, PVA, EVOH and EVA.
Extraordinary detail?

✓ SMART can achieve this and more.
SMART CNC tooling production yields unprecedented detail that can be enhanced with high gloss, matt, textured or laser etched surface finishes.
Full development service and technical support?

✓ SMART and PERSICO back you 100%
Persico's experts have many decades of experience and can help with the design and specification of your products.
Optimization: Persico can suggest ways to optimize your product for the SMART production process – how to reduce material and energy usage, whilst producing high-quality products with the highest repeatability under controlled conditions.
Precision DTH tooling: once the product design is approved, Persico can manufacture electrical DTH tooling to work in harmony with the SMART control system.
Prototyping at Persico: your products can be prototyped at the Persico facility to ensure the machine and tooling are operating optimally.
Installation in your plant: once tested, the turnkey operation can be moved to your facility anywhere in the world to produce parts of the same quality. No detailed process knowledge is required in house. The controllability of SMART technology will allow identical parts to be reproduced at almost any location worldwide.
The SMART system is based on established technology that is constantly being improved. SMART is already at work producing high-quality parts at
customer facilities around the world
. Products are being manufactured for
countless market sectors,
including automotive, aeronautical, composite cores, furniture, lighting, floor cleaning, spillage containment and many more.